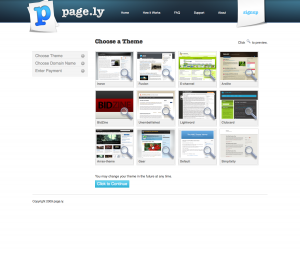 We are happy to announce the pending launch of page.ly, a website builder we have created to provide a complete online website solution for small businesses. page.ly lets you create your own website with just a few clicks of a mouse. Every page.ly site is fully customizable with dozens of provided themes/templates and the ability for users to add their own. Powered by the wordpress, page.ly has many built in features that make keeping your website up to date a cinch. page.ly also provides users with their own domain name, and email service. A complete small business website builder.
Your Own Domain Name
Dozens of professionally designed themes to choose from
Webmail Email Service
Built in Website Editor
Your Own Logo
SEO Friendly
Built in Blog
Save Time and Money
Powered by WordPress
Page.ly will launch mid-summer.