We have been tinkering on some side projects and are happy to release:
pix.ly – Rate your Flickr photos
pix.ly allows you to pull photos from yours are anyone else flickr account and rate them in a vs. style contest. Rate your flickr photos now.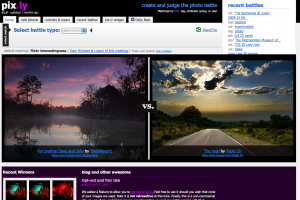 twit.pix.ly – The ultimate Twitter Avatar Battle
Do you twitter? twit.pix.ly lets you rate your friends Avatars in a vs. style content. The ultimate twitter avatar battle is going on now.