We are happy to announce the re-launch of Gigacrete.com. GigaCrete is a "green building" materials company that just opened a new headquarters here in Scottsdale, Arizona.
At GigaCrete, we develop and manufacture next generation building materials that structurally, economically and environmentally outperform today's conventional building products. Why? To positively impact human lives.

Build strong. Build forward.
GigaCrete has a very interesting product, in that they have engineered an environmentally friendly alternative to traditional portland cement which also reduces weight, waste, and dramatically increases strength and thermal insulation. I was able to learn quite a bit about their product while developing the new website.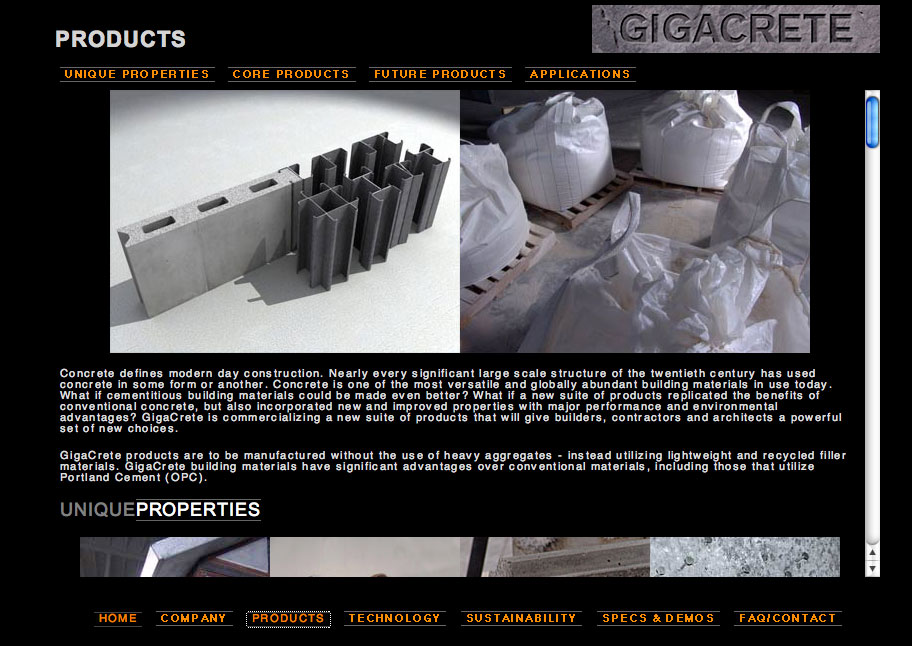 Here is a shot of their old website, which had served its time. The new website was built upon a content management system to enable GigaCrete staff to self maintain the website, as well as post press releases and blog entries.
A thanks go to out Candace Wade at Stand4 for the logo/identity work. It was a pleasure working with Candace and the staff from GigaCrete on the project. GigaCrete is poised to make a big impact in the green building industry, and we were happy to play a part by providing a new website to serve their online needs.